In order to put our principals into practice, CENTCREST focuses on consulting services, research and education on Intellectual Property for advanced science and technology, making practice our solid basic activity.

The"CENTCREST" comes from the"Center for Consulting, Research and Education on Science and Technology", and this is our goal.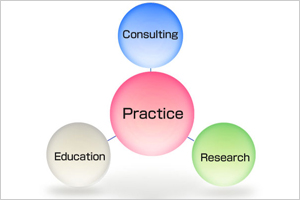 Patent Prosecution
We assist our client's in all areas of Intellectual Property Law.

We prepare and prosecute patent, utility model, design and trademark applications. In addition to preparing and filing Invalidation Trials before the Japanese Patent Office, we provide consultation and legal opinions. We assist in negotiations, and when appropriate, we file intellectual property infringement suits and other litigation before the courts.
International Practice
We have extensive international experience. We assist foreign clients in obtaining and enforcing intellectual property rights in Japan. We coordinate the Japanese prosecution with the filing and prosecution of corresponding applications around the world, particularly in the US, Europe and Asia.
Legal and Technical Consultation
Rounding out our IP service, we counsel clients in the development and commercialization of their technology so that they can avoid infringement of the pre-exiting rights and enforce their rights effectively against others. Our approach to counseling clients combines our technical expertise and practical experience with our legal knowledge and business acumen.
Communication
High quality work and clear communication are the twin foundations client satisfaction. Our Teleconferencing System allows the clear effective communication necessary for excellent service.